Improving the Lives of our Senior Citizens
Summers County Council on Aging was formed in Hinton, West Virginia in 1974. We have serviced the community for more than 40 years and remain dedicated to providing quality services to our seniors.
At Summers County Council on Aging we are committed to studying and reaching the needs of our seniors. We encourage, promote and aid in the establishment of local programs and services for the aging. We strive to assist and educate seniors with issues and programs affecting their needs.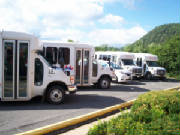 DUE TO THE COVID-19 VIRUS CENTER IS CLOSED TO THE PUBLIC
   If you need assistance please call our office at 304-466-4019            
Hours of Operation
Monday thru Friday 7:00 a.m. to 4 p.m. (Closing at 3 p.m. Effective 10-1-2020 due to COVID-19)
With our 5 vehicles we can provide the services needed to assist our seniors with transportation, meal delivery and Outreach for our shut-ins.
"Dedicated to improving the lives of our senior citizens"